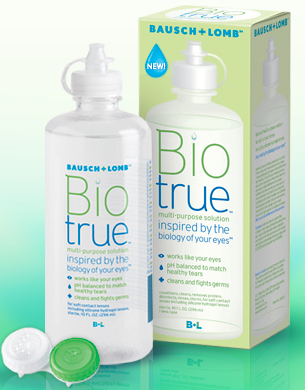 Take the Biotrue® Challenge (http://www.biotruechallenge.com) this month along with my household by switching from your current contact lens solution brand toBausch +Lomb'sBiotrue®multi–purposecontactlenssolution! Biotrue® works like your eyes to provide you with the health and comfort your eyes deserve. It's the solution that helps keep contacts moist for up to 20 hours, so wearing lenses is easier on your eyes. Biotrue® multi-purpose solution is for all soft contact lenses including silicone hydrogel lenses.
My husband has been a contact wearer for a long, long time. He's always complained of dry eyes and usually battles redness and itching. Whether it's from his sensitive eyes, contacts or the solution he uses, something needs to change. So, we decided to take the Biotrue Challenge to see if it made a difference. What have we got to lose?!
Biotrue is formulated to work like your eyes. By studying how the eye naturally works to clean, hydrate, and keep itself healthy, Bausch + Lomb developed a unique and innovative solution to provide outstanding care for soft contact lenses.
Biotrue goes beyond cleaning by bringing together three bio-inspired innovations:
-Has a lubricant found naturally in your eyes
-Matches the pH of healthy tears
-Keeps certain beneficial tear proteins active
When used daily, Biotrue® multi-purpose solution dissolves protein and cleans, loosens and removes accumulations of film, debris and deposits from soft contact lenses. Biotrue® helps prevent the formation of irritating deposits on the lens surface. It kills harmful microorganisms on the lens. While your lens is soaking, the formula envelops the lens in a moisture-rich cushion to help the lens remain comfortable throughout the day.
Over the next few weeks, we'll be trying out Biotrue in our household and will update you with our results! Give it a try yourself and come up with your own results!
Switch out your solution today and see the difference yourself – take the Biotrue Challenge!
Thanks to Bausch + Lomb, one of my readers could be one (1) of ten (10) exclusive winners of a 1-year supply of Biotrue® multi-purpose contact lens solution! Share with us below the changes you're making to be more comfortable at the end of day!
This is a sponsored conversation written by me on behalf of Bausch & Lomb. The opinions and text are all mine. Bausch + Lomb BlogFrog Biotrue Challenge Sweepstakes Rules.