This is a sponsored post written by me on behalf of Snack Pack for IZEA. All opinions are 100% mine.
We're really lucky that our school serves really good for you, wholesome lunches each day. Things like green leafy salads with grilled chicken, quesadillas and pasta with marinara sauce. But, my kids like to take their lunches most days. They tell me that they like to bring their favorites from home. I think they like the extra time they have by not having to stand in line for their trays. Plus, it's super fun to get a little note from mom or dad telling them to have a great rest of the day!
I usually pack their lunch with a sandwich, a veggie, fruit and something crunchy and a sweet treat. I don't like to give them too much sugar since they still have to go sit in a classroom the rest of the day. So, I look for yummy treats that are good for them, as well! Some days it might be a granola bar with chocolates chips, a fig bar or even cookies that I've made at home with good ingredients. Another fun treat is a pudding Snack Pack! They love when I put these in because it's a fun surprise! They don't realize that it's a sweet that is also good for them!
Snack Pack® is a simple, wholesome snack that puts the fun back in your lunchbox with delicious flavors kids and adults enjoy, that's easier than ever to enjoy thanks to a redesigned lid.
Upgrade boring brown bag lunches and midday snacks with Snack Pack®, made with real nonfat milk and fortified with as much calcium as an 8-ounce glass of milk*.
Enjoying your favorite Snack Pack® flavor is easier than ever. They now offer a redesigned lid to make the cups easier to open. Which is great for little fingers to do on their own.
Snack Pack's variety of flavors contain no preservatives or high fructose corn syrup, helping you to pack in the fun without the guilt.
Pick up your Snack Pack in the baking aisle and head to www.SnackPack.com for more information.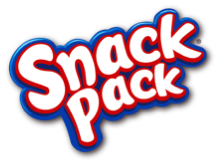 *All Snack Pack® products contain 30% DV calcium, with the exception of Bakery Shop Lemon Meringue Pie, Lemon Pudding, and Snack Pack Gels.